Christmas Gift Appeal
Christ the King Sixth Forms and East Kent Colleges Group are overjoyed with the results of our 2020 joint Christmas Gift Appeal.
Together we raised £4337 via our GoFundMe page and £1058 in our Artwork auction, making an incredible grand total of £5,395! Along with an equal share of the monies raised, our three charities also received an equal share of 2168 items which included:
561 gift items, including children's toys, books and games,
382 toiletry items
826 food items
7 brand new clothing items
152 items were donated to a local charity shop
240 luxury biscuit and chocolate items
We are elated by the outcome of this year's Christmas Gift Appeal and cannot thank the staff, the students, our partners, and local residents enough for all that they have kindly contributed to the cause. Our charities St Vincent de Paul Society, Refuge and Demelza Hospice are ever grateful, and it brings us enormous delight to know that we've had such a positive impact on the lives of families and young people at such a special time of year.
To all, a Merry Christmas and a Happy New Year.
From Christ the King Sixth Forms.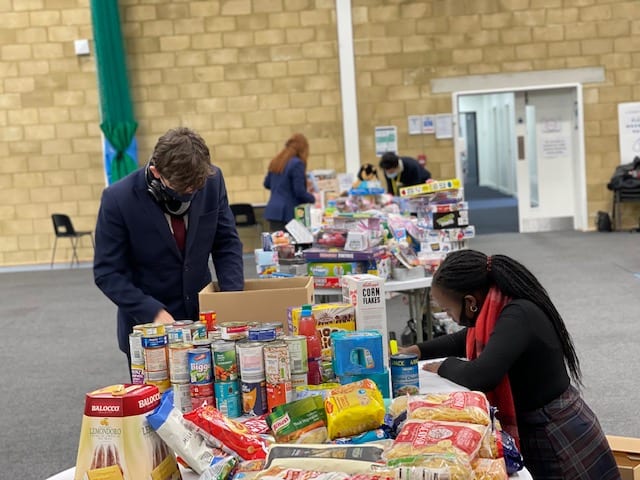 Charities
The charities we have supported in this appeal are:
Demelza Hospice Care for Children https://www.demelza.org.uk/
St Vincent de Paul Society https://www.svp.org.uk/node/606
Refuge https://www.refuge.org.uk/ 
Our Gift Appeal in the Press
South London Press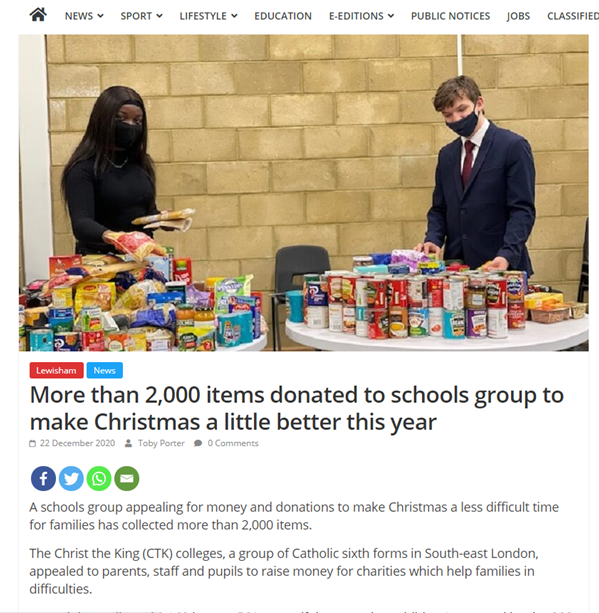 You can read the full article at https://londonnewsonline.co.uk/more-than-2000-items-donated-to-schools-group-to-make-christmas-a-little-better-this-year/
South London Press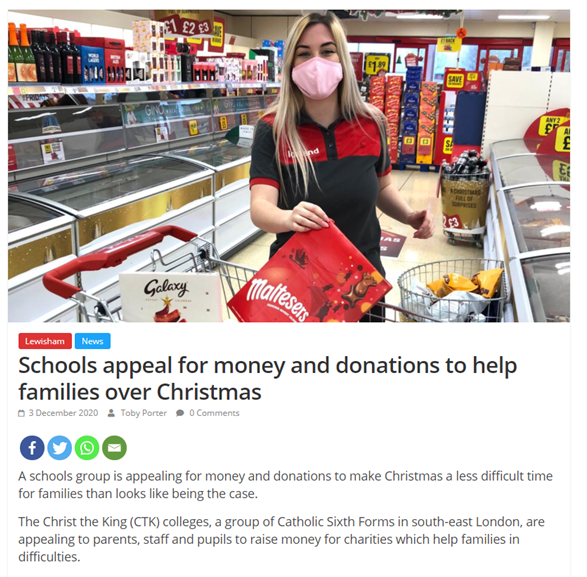 You can read the full article at https://londonnewsonline.co.uk/schools-appeal-for-money-and-donations-to-help-families-over-christmas/
The Roman Catholic Archdiocese of Southwark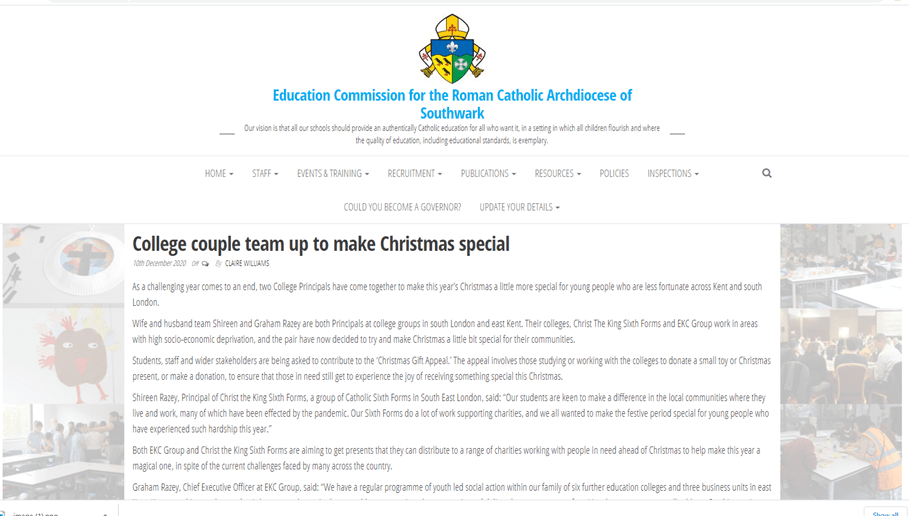 You can read the full article at https://www.rcaoseducation.org.uk/8333/
The Catholic Universe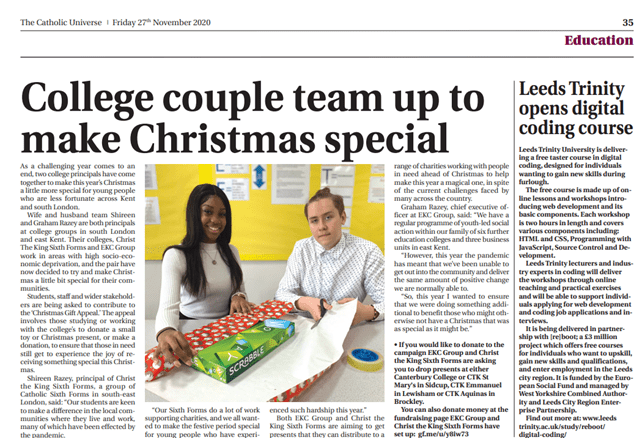 You can read the full article at https://www.thecatholicuniverse.com/DE/UNI201127tm.pdf?mc_cid=549d336d46&mc_eid=b84cea81aa
In Your Area
You can read the full article at https://www.inyourarea.co.uk/news/canterburys-iceland-stores-donate-to-local-christmas-appeal/
FE News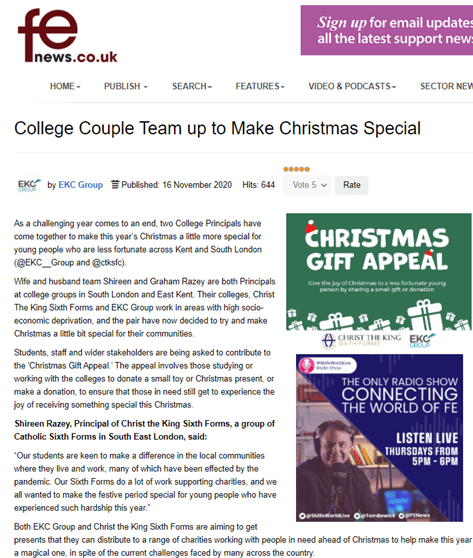 You can read the full article at https://www.fenews.co.uk/press-releases/58649-college-couple-team-up-to-make-christmas-special
Maritime Radio
You can read the full article at https://www.maritimeradio.co.uk/colleges-come-together-to-make-christmas-extra-special/
Kent Online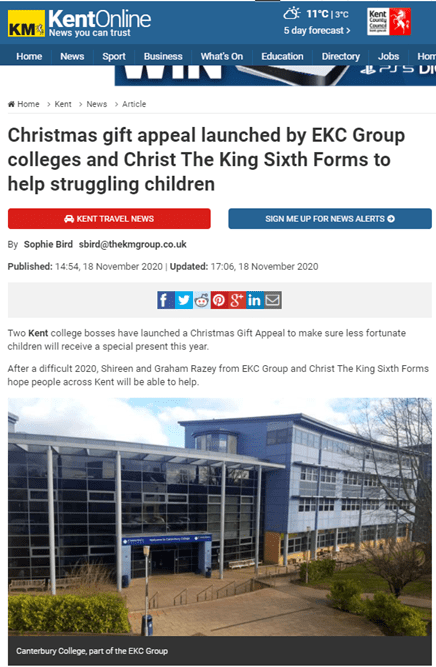 You can read the full article at https://www.kentonline.co.uk/kent/news/colleges-team-up-for-christmas-gift-appeal-237664/
South London Press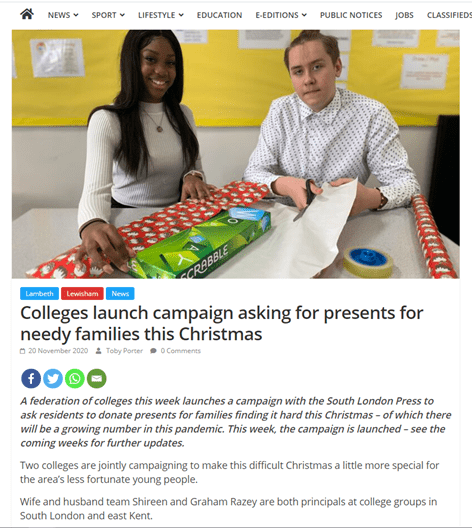 You can read the full article at https://londonnewsonline.co.uk/colleges-launch-campaign-asking-for-presents-for-needy-families-this-christmas/
The Lewisham Ledger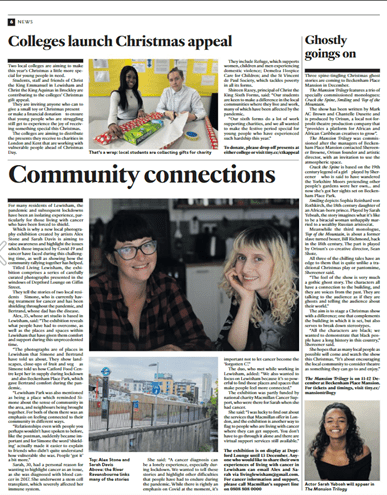 You can read the full article at Lewisham Ledger
The Catholic Universe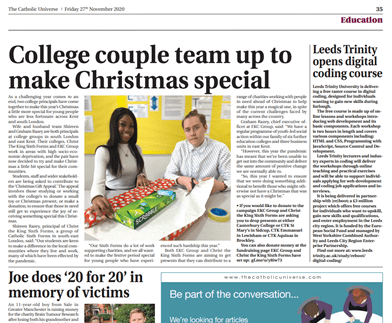 You can read the full article at The Catholic Universe
Husband and wife principals launch Christmas campiagn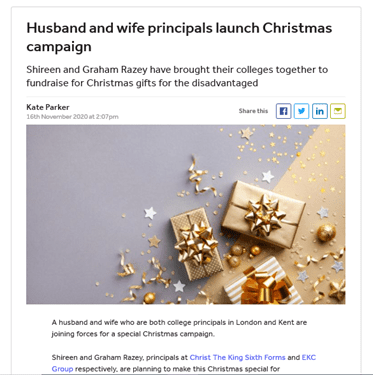 You can read the full article at https://www.tes.com/news/Christmas-colleges-husband-and-wife-principals-join-forces-christmas-campaign